Release posted on 03-13-23 at 9:28 a.m.
Update: PCSO Deputy Involved shooting
Today at 1 p.m., Chief Anthony Holloway and Pinellas County Sheriff Bob Gualtieri will hold a brief press conference at the St. Petersburg Police Dept., 1301 1st Avenue North.
PCSO K9 Corporal Matthew Aitken, injured - was hired on 3/20/2006 and is 40 years old. He is in stable condition this morning and continues to improve.
PCSO Sergeant Jacob Viano, shot at the suspect- was hired on 11/06/2000 and is 49 years old. He is on administrative leave pending the outcome of the investigation.
Zion Bostick, deceased suspect - DOB 3/2/2000- shot PCSO K9 Corporal Aitken.
Updated Summary:
On 03/12/23 at 6:52 p.m., Pinellas Sheriff's Office Deputies responded to a vehicle burglary in the 6300 block of 60th Avenue North, in an unincorporated area of Pinellas County. Deputies then spotted the suspect at a Church at 6300 62nd Avenue North. The suspect then fled south, behind the church, through a wooded area to a neighborhood on foot.
K9 Corporal Matthew Aitken and his K9 "Taco" began to track the suspect. Sergeant Jacob Viano went with Corporal Aitken to assist. They tracked him to the backyard of 6385 60th Avenue North.
Corporal Aitken saw the suspect attempting to conceal himself around an exterior corner of the house. Corporal Aitken verbally challenged the suspect and the suspect immediately fired several rounds at Corporal Aitken, hitting him three times. Sergeant Viano saw the suspect shoot Corporal Aitken and then the suspect turned and immediately fired multiple rounds at Sergeant Viano, who was able to duck out of the way. Sergeant Viano regained his footing and fired back.
Corporal Aitken was transported to Bayfront Health and the suspect was pronounced dead at the scene. Sergeant Viano and K9 Taco were not injured.
The suspect's identity is confirmed as Zion Bostick (DOB 03/02/2000). Bostick had an extensive criminal history. A recent booking photo from September 2022, is attached.
After further forensic processing, besides the gun he fired, Bostick also had a second handgun in his right pocket. It was reported stolen out of Manatee County.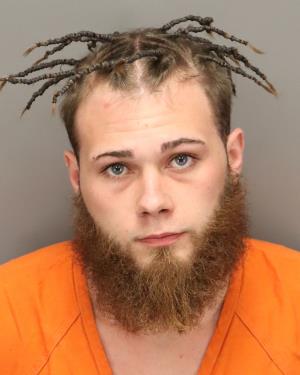 Zion Bostick recent booking photo
---
Release posted on 03-12-23 at 10:34 p.m.
Tonight , Chief of St. Petersburg Police Anthony Holloway, held a press conference to address a shooting involving a Pinellas Deputy. It is being investigated by the Pinellas County Use of Deadly Force Task Force.
At 6:52 p.m., Pinellas Sheriff's deputies responded to a vehicle burglary in the 6300 block of 60th Avenue North, unincorporated Pinellas Park.
A K9 handler spotted the suspect near a church at 6300 62Avenue North. The handler and his dog , and a Sgt. backing them up, tracked the suspect south into a fenced backyard.
The suspect was waiting for them and fired several shots, striking the K9 handler. The Sgt. fired back and struck the suspect. The suspect, an adult male, died at the scene.
The K9 Deputy is hospitalized in stable condition. His dog was not injured.
The Sgt. was not hurt. He is on administrative leave pending the outcome of the investigation.
A photo of the suspect's handgun is attached.
Names will be released tomorrow.
In 2020, the Pinellas County Use of Deadly Force Investigative Taskforce was created to ensure the investigations conducted into law enforcement use of deadly force are thorough, complete, and objective. The purpose of this taskforce is to make sure that officer-involved shootings in Pinellas County are investigated by an independent agency and not by the agency involved in the use of deadly force.
St. Petersburg Police Media Relations - (727) 893-7550
YOLANDA FERNANDEZ - Public Information Officer